Polar Automotive
The UK's leading snowchain supplier.
Since 1987 we've offered a friendly, individual service from our very experienced staff. We distribute many of Europe's best known brands and are able to supply snow chains to all sectors of the market - both domestic and commercial - to suit all vehicles, tyre sizes and budgets.
Specialist snowchain supplier
Wide product range to suit all budgets and all vehicles
Expert, friendly staff with 25 years experience
Bespoke fitting service at our store in Tonbridge, Kent.
Suppliers to the , , MOD, Fire Service & Mountain Rescue.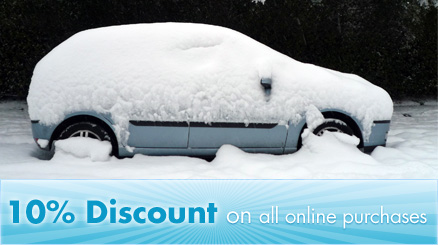 What snow chains should I use for my vehicle?
We offer a full range of snow chains to suit all vehicles. Our budget range are perfect for getting you out of trouble, both here and abroad, and meet all legal requirements when driving in Europe and on mountain roads. The premium range of snow chains offer all our budget snow chains offer, as well as having an automatic tensioning system. Our premium range of snow chains are more hardwearing, are made of high tensile steel and carry a 5 year warranty. We also sell snow socks; a textile 'sock' that wraps around the wheel to give increased grip in snowy conditions. They are very easy to fit and are a great solution for local use.
My vehicle has limited clearance – can I still use snow chains?
Some vehicles have very little space between the wheel and the suspension of the vehicle which means the chains could come into contact with the bodywork, braking systems or suspension with serious consequences. It is possible to check if your vehicle has a clearance problem by placing your hand on top of the wheel. You need to be able to fit your hand between the wheel and the suspension of the vehicle. A standard car snow chain has a 9mm protrusion and so there needs to a gap of about 15mm. When it is not possible to fit a standard snow chain we have various options to help. The Thule K-Summit snow chain requires no clearance around the back of wheel as it fixes to the wheel nut on the outside of the wheel, making it suitable for the most affected vehicles. We also have a 7mm chain which has been specially designed for cars with clearance problems. A snow sock is another solution; a textile cover that wraps over the wheel to give improved grip on snow covered roads. The traction given by a snow sock is not as good as that of a snow chain meaning they do not meet legal requirements on European roads.
Some 4x4 vehicles also have clearance problems and again the Thule K-Summit offers a very comprehensive solution. The XG12Pro snow chain can be used on some vehicles as it protrudes 12mm off the wheel, compared to the standard 4x4 snow chain protrusion of 16mm.
How many snow chains do I need?
Snow chains are sold in pairs and need to be fitted to the drive wheels. This is generally seen as sufficient and meets the legal requirements on mainland Europe and mountain roads. Some drivers prefer to use four snow chains (two sets) for additional traction. This would give more control, especially if you are driving for long stretches in areas requiring snow chains. On a four wheel drive vehicle they are generally fitted to the front wheels (please check manufacturers handbook for advice), but if there is restricted space between the wheel and the suspension of the vehicle at the front they will need to be fitted to the rear wheels.
Where and when should I carry snow chains?
On mainland Europe a driver is responsible for equipping his vehicle for all weather conditions. A driver can be fined if he fails to use snow chains when they are needed, thus impeding the normal flow of traffic or causing an accident.
Snow chains are a legal requirement on all European mountain roads. Roadside checks are carried out and drivers may be fined if they do not have a set in their vehicle. Snow socks do not meet the required standard in European ski resorts.
How fast can I drive whilst using snow chains?
We would always recommend driving with caution in snowy conditions, even when using snow chains. The maximum recommended speed is 30mph.
A gentle driving style is essential when using snow chains. Excessive acceleration and hard braking will put too much pressure on snow chains and may cause them to snap.
What accessories do I legally have to carry in my car when driving on the Continent?
Regulations regarding accessories are subject to change and we would recommend checking the AA website for the most up to date information. Currently it is compulsory to have a GB sticker, warning triangle, reflective vest, beam deflectors and spare bulb kit across most of continental Europe.
Regulations regarding the use of reflective vests vary from country to country, with some countries requiring any passenger that exits the vehicle to wear one. We recommend all passengers have a reflective vest.
Are snow chains legal?
The use of snow chains is legal in the UK, as long as they are not used in a manner that will damage the road surface. This means snow chains must only be used on snow-covered roads and need to be removed when driving on a tarmac surface. The use of snow chains is legal across most of Europe, and in many areas they are compulsory. Local signs indicate when they are legally required and this includes all mountain roads/ski resorts. Outside of these compulsory areas, any driver found to cause a hold up or accident as a result of not being equipped for the weather conditions is liable to be fined.